Wedding Book
Wedding Book of Wishes "With Love"                 
What is Wedding Book of Wishes?
You may have seen similar books, such as the "guest book", where wedding guests write their wishes to newlyweds. Comparing to the commonly used congratulations cards, a guest book brings a clear advantage for the married couple having the wishes and messages from all the guests at one place. Such a book can then become a jewel in the family library for several generations…
How does Wedding Book of Wishes "With Love" differ from the other guest books?
Our Wedding Book of Wishes "With Love" is unique because unlike other books of this kind it does not only offer a nice cover and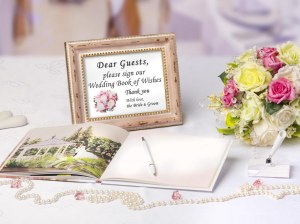 blank pages, but it's full of beautiful, painted, wedding-themed illustrations: from proposal through the wedding preparations, the wedding ceremony, the bridesmaids and the best man and other various wedding symbols. All illustrations are painted by Slovak artists specifically for this book of wishes. Excerpts from the book can be viewed here.
The book also offers the opportunity to write in the newlyweds information: names, date and place of wedding, engagement and first date details. The book also includes a thank you message to the wedding guests for their wishes.
The book is designed in the best possible quality, as it's intended to last for a lifetime! Solid book cover, solid coated paper and the highest possible quality sewn binding ensures that the book will last for generations to view.
A gift with the book
With each Wedding Book of Wishes, we send you a small gift: a guide for wedding guests – an inspiration what to write in the book. For more information, click here.
Information about the book
Name of the book: Wedding book of wishes "With love"
Number of pages: 84 pages of which 64 pages prepared for guests and their wishes
Dimensions of the book: 21×21 cm / 8.27 x 8.27 inch
Binding: quality sew binding with solid hard cover
Published by Le-Mimi, s.r.o., Slovak Republik
Printed by Tigris,spol. s r.o., Czech Republik
1st edition, 2014